Albury Community Information
Albury is located at the base of NSW on the Vic border neighbouring Wodonga. Albury Wodonga is referred to as two cities, one community under both local governments' strategic plans. We consider ourselves as one community with a river in between, as both sides access services and activities which meet our needs, from either side of the mighty Murray river. The Murray river is considered a life source of this region.
Albury as a resettlement area has many tribes located within such as Wiradjuri, Barkinji, Yorta yorta, bunjalung, dhudoroa, Pitinjarra to name just a few. Current NSW living in Albury population is 216,170. Aboriginal and Torres Strait Islander population in Albury is 1,415, with 51.3% women and 48.7% men with a median age of 20.
Background
Albury Wodonga Aboriginal Health Service provides care and assistance in the health field to community for the last 13 years. Dental, medical, podiatry, D&A, SEWB team
Woomera Aboriginal Corporation is a community hub that provides housing, runs koori kindermanna that cares for our 3 – 5 year olds in a culturally appropriate and safe environment.
High Aboriginal population and families in West Albury, Springdale Heights, North Albury and East Albury. We have families were generations of their mob have resided in Albury and surrounds proving a close relationship with this area and its people.
Albury has always had an active Aboriginal community that has contributed to the wider community in many ways. We have partnerships with local council with the ongoing development of Yindyamarra Sculpture walk. We have an energetic men's shed with local volunteers offering their time with school visits and educating local non-Aboriginal people.
Local Contributions
Mungabareena Aboriginal Place, East Albury was handed back to the Aboriginal community in 2018. Now an active Management committee including Elders and Albury and District Local Land council are bettering and maintaining the area with ideas such as dual language signage, making it more accessible and easier access to the Aboriginal community.

Achievements

Yindyamarra Scuplture walk 11 kms of trail beside the Murray river. , Wiradjuri language being implemented on NBN boxes in central Albury along with the, West Albury school kids NBN boxes, art and local language on local community centres. Totem pole at Norieul Park by local artists Darren Wighton.
Goals / Objectives
CWP Action plan 2016 – 2018 implemented in various areas of housing, youth, education, Elders care,. This is currently the priority for the Community Working party in 2020.
Through the Aboriginal mens shed Aboriginal Fire Brigade is being researched as the need for the traditional way of being is needed in this time.
Development of an Albury city wide culture and heritage research study for future developments in Albury's projected high growth areas.
Mental health
Lack of Government employment opportunities
Lack of youth leadership programs
Men disconnected from culture
Discriminatory sentencing
WOD - Work off your debt under-utilised
High number of clients results in rushed legal representation
Lack of sensitivity within some services
Lack of preschool places
Lack of sex health workers
Limited counsellors within schools
Healing centres
Improved employment strategies
Identify and support young people in local, state and national programs
Men's action plan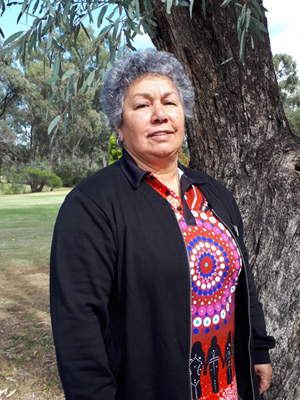 Albury Delegate
Tribe/Clan AND/OR Language group
Yorta Yorta/ Duduroa/ Wemba wemba/ Muthi Muthi
Representing community (Living in)
Why did you nominate to be a RMRA delegate?
Anything else you want to add about yourself?