Riverina Murray Regional Alliance Introduction
With the reduction of Government services, in particular the Aboriginal Affairs office closure in Wagga Wagga, concerned community members saw the need for a regional governance structure to coordinate the provision of services across the Riverina Murray region. While RMRA has been operating since 2015, it was formally launched in 2016 as a regional mechanism through which Riverina Murray communities can collectively identify priority issues, and engage with government and key service delivery stakeholders to develop targeted service responses and solutions, and directly influence how those services are delivered.
The establishment of RMRA also provides an opportunity for Riverina Murray communities to engage with, and benefit from, the NSW Government's OCHRE Plan (Opportunity, Choice, Healing, Responsibility, Empowerment) which provides a policy framework for advancing the capacity of NSW Aboriginal communities to participate in local decision making focused on improving education, employment, service delivery and accountability outcomes.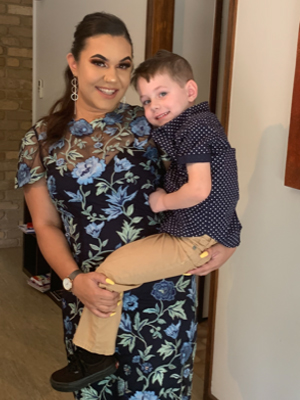 Melissa Bilney
RMRA Project Officer
(2019 - Current)
Melissa Bilney has lived in Wodonga for over 20 years now. While Wodonga is her current hometown, her family are not from area. Her mother, being Greek and from Victoria, and her father, a proud Pitjantjatjara man from South Australia. Melissa is an active community member and is the current Project Officer of the Riverina Murray Regional Alliance (RMRA) since May 2019.
Melissa was a finalist in the Albury Wodonga NAIDOC Youth of the year in 2013 and 2018 and was awarded the Uncle Arthur Melrose Encouragement Award in 2013.
Melissa's career started in 2013 as a trainee in government and has grown from there. Her passion lies in helping her community and being part of the wider Aboriginal community in Victoria and NSW.
Soon, she hopes to expand on her knowledge about her culture to pass onto her young son, aged 4, and pave the way for his future.
RMRA is not an incorporated body. It is comprised of representatives of each of the Community Working Parties (CWPs) from member communities. Current RMRA member communities are:
Albury
Cootamundra
Cummeragunja (non-active member)
Deniliquin
Griffith
Hay
Leeton
Narrandera (non-active member)
Wagga Wagga
Tumut